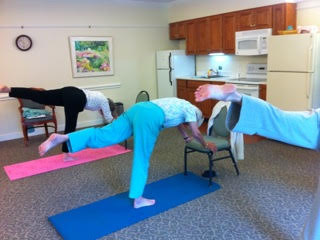 Yoga Therapy
Yoga therapy is the process of empowering individuals to create and maintain health of their body, mind and spirit through the use of traditional techniques from the philosophy and practice of yoga. Clients will engage in therapeutic movement, customized to their individual body and mind needs, and take an active role in their treatment. These sessions can be done privately or in small groups.
Rachel especially enjoys teaching those with mental health challenges but also clients who need simply to reduce their level of stress and enhance relaxation. Lifestyle issues are addressed, and where appropriate, the concepts of Ayurveda (the natural health system from India) are suggested. Rachel has taught all ages (0 to 92!), people with limited mobility, in mental health treatment centers––and has a gift for adapting the practice of yoga for, literally, everyone!
Yoga therapy sessions can be booked in North Wales, Bryn Mawr or at a location of your choosing. Please contact Rachel for rates.