We call a child's mind "small" simply by habit; perhaps it is larger than ours is, for it can take in almost anything without effort.
Christopher Morley, 1890–1957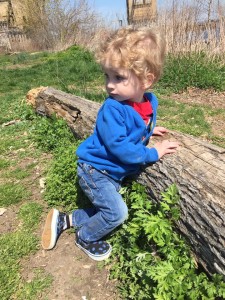 I am fascinated with my son's increasing awareness of the world. He is now much more verbal and our "conversations" delight me and cause me to think more deeply. For almost two years, I waited for his thoughts to become known to me through speech…and now, I am finally learning so much. His thinking is not linear. His spoken thoughts are triggered by pieces of memories; some that even I have forgotten.
A more mundane example was during a diaper change. He stated, "Owl diaper! Nanny fixed it!" His cloth diapers have many different patterns…and we own around thirty. My mother, Nanny (Nana), repaired the broken owl diaper over two months ago when we were visiting. I had forgotten the details myself. Interestingly, Cole had no ability to say "diaper" or "fixed" at that time. I hadn't realized he was even aware that this happened.
So you can imagine my surprise when, a few days ago, this conversation happened (most cute toddler speech is left out).
Cole: Mommy, we see Nanny soon?
Me: Sure! We can see your Nana.
Cole: See Unc Pedder at Nanny house?
Wait, wait! I had to ask him about "Unc Pedder." "Cole, you have a classmate named Petra, do you mean her? She lives around here." Cole laughed. He told me I was silly. I knew he wasn't talking about his classmate anyway. "Cole, do you mean your Uncle Peter?" He said "Yes, see Uncle Peter at Nanny house."
My brother passed away in September, at a time when Cole was not speaking (save for a few words). During that time in my life, I said very little about his uncle's death. I just left the situation; I honestly didn't want Cole to ask…because I have no idea how to explain death to a child Cole's age, especially a tragic, sudden death. I had relied on Cole's pre-verbal status to avoid talking about something.
I told Cole we could not see Uncle Peter. He reacted in the same way he does when I tell him he cannot have chocolate. A mini-meltdown, stomping of feet and annoyance. When I assumed he forgot, he asked again. I say, "We can go see your Uncle Tim." No, wrong uncle. Your Nana? No. Grandma?
At some point, I will take Cole here. It is likely the only way he will be able to see his uncle, unless he has some way to do so that I don't understand. I'll need to work through some of my own feelings…and maybe decide what it is to actually see my brother. For now, I don't have the tools, spiritual or otherwise, to navigate the inquiries of my young child.