I am a healer.
It's a word I stumble over. Yet, I've heard it used to describe myself. As I am called frequently to teach yoga strictly as a therapeutic modality, I am increasingly humbled by what is being entrusted to me. In my Reiki practice, too, as a teacher and practitioner the word "healer" is said so nonchalantly, so freely.
When I was studying to be a yoga instructor, I was continually reminded that our art is simply to be a conduit of the Divine. We are the channel, the way that the teachings reach others. At first, a combination of humility and insecurity made this an easy idea; yes, checking my ego at the door of every yoga venue in which I teach…no problem! We study our healing art so that, in that beautiful place between effort and ease, we can let the "magic" happen. In this way, I reflect on many musical performances when I didn't feel that I was the person playing the instrument, on stage, moving the audience. An athlete might call this the "zone"…for me, it is Divinity speaking through my hands, my body.
But, I mention that we study to get to this place. We must possess infinite knowledge. It is only then that I feel I can properly channel the energy needed for healing.
In fact, it is not myself, as a practitioner, that heals at all. It is the person's natural ability to heal themselves. The body and mind know how to repair, heal and be healthy…sometimes, they just need  some assistance. Most of this, for someone practicing Eastern modalities, is about allowing the prana or chi, which is defined as "life force energy," to flow freely through the body. This restores balance, leading to health. Moving this energy can be enhanced by yoga, acupuncture, massage, Reiki and countless other methods.
I never knew that hearing the world "healer" applied to me would sometimes make me uncomfortable. It implies something which is more than what I feel I can do as a human. It assumes too much responsibility. That can create disappointment for the client if their issue doesn't "go away." Also, being a healer doesn't mean that I can always tell you exactly what is wrong, what caused it or what I am doing to relieve it. And, it's sometimes difficult to figure out exactly how the healing took place if the results are desired.
I, like other "healers," possess both skills and gifts. The skills are learned…years of training, schooling. The gifts are more innate: intuition, compassion and intention. A true healer needs all of these. We then surrender to the Divine (or Higher Self, Spirit, however one wants to define it).  And, we need you, too, to trust that your being will be healed at the right time and in the perfect circumstance.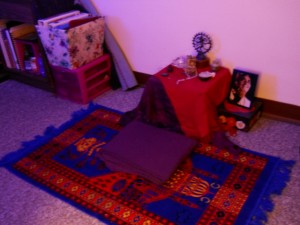 Live as if you were to die tomorrow. Learn as if you were to live forever.
– Mahatma Gandhi
When I was a child, my parents impressed upon me that education was valuable and absolutely essential. Not only was school incredibly serious, I watched my father, an MD in Family Practice, continue to educate himself through additional trainings, certifications, books and articles. My mother, also in the medical field, is an avid reader and scholar. Our home was over (over-)stuffed with books on such diverse topics as Occult studies to North American birds. Although my parents likely saw quite a few eye rolls, the mantra at our home, whenever I asked a burning question, was, "Go look it up!" (I might add that this was before the age of the Internet.)
Reflecting on my childhood, I can now see the transition I made to becoming a perpetual student. In fact, I attempted to make a career of graduate studies and whenever I hit a personal snag in my life, I immersed myself in a new task to learn. I soon possessed two graduate level music degrees and was working on a third–when real life finally demanded my attention.
In late-2009, it became imperative that I take a medical leave from a prominent, fully-funded doctorate program. The ambitious, fiery young woman in me was giving way to a more contemplative, introspective person. And, I was tired, oh so tired. My "way of life," which involved studying, touring and performing, was all but gone as somewhat-furiously I turned inward, trying to figure out what went wrong.
TKV Desikachar, son of Krishnamacharya, defines Svadhyaya, the fourth niyama (from The Yoga Sutras of Patangali), as "Self-inquiry; any study that helps you understand yourself; the study of sacred texts." Although I bemoaned taking my attention off of my music studies, I had merely shifted focus to the study of yoga asana, mediation, scripture and Sanskrit. Thankfully, my year-long residency at the Himalayan Institute in Pennsylvania provided me with the education I needed to study both this new philosophy and myself.
In my yoga work, I get many questions about my education–where did I train, what did it involve…and more…hours of training and which trainings. Yes, yoga is BIG. Just this morning at the bank, one of the workers said, "Wow, you teach yoga? That's all the rage now!" Teacher trainings are huge "cash cows." Yoga, unfortunately, is a pyramid scheme–a few people make quite a bit of money off of expensive trainings while those teaching full time often use other means of training (beyond the minimum certification) such as shorter workshops, university coursework, residencies, shadowing healthcare practitioners, bartering and reading everything we can get our hands on. 

Before this yoga bubble, individuals were not spending all of their money on teacher trainings. But they were studying.
So, three music degrees (both performance and history) brought me to a place where I teach and practice yoga, Ayurveda, Reiki and meditation. Do I regret studying formally so many years? Well, I should be clear that I do actively perform and teach music, even if not full time. But, what did I learn in all of that graduate school?
I learned how to learn. That is the number one lesson that years of formal school provided me. Not only can I learn quickly, but I can integrate new ideas into my practice, present lectures with confidence to varied audiences, approach clients with compassion and, perhaps most importantly, be able to express when I have a gap in my knowledge–either filling it in or finding a resource (book, person or course) that will help me learn what I do not know.
Of course I am grateful for my teachers, my residency experience and the certification programs I have taken in yoga, Ayurveda and Reiki. I look back on years of music study for teaching me how to teach myself and and to my parents for providing me with a love of learning. And, admittedly, I am thankful for the crises of body and mind that forced me to learn the real meaning of Svadhyaya.
Way back in August 2012, I was asked to discuss my own journey in healing from an eating disorder as a guest on Healing Arts Radio. Danielle Stimpson, a Shaman and Reiki master, in addition to being my friend and colleague, also recovered from an eating disorder using a mix of non-traditional modalities. Her radio show features different guests each week who introduce healing practices, many based on ancient systems, that can help all of us.
Please enjoy listening to myself, host Danielle Stimpson and two co-hosts, who stopped by to lighten the mood during the discussion of this serious topic. I hope my words will inspire any of you that suffer from an eating disorder or any other mental health issue. You don't have to live this way, nor do you have to pursue the oftentimes expensive path of traditional Western psychotherapy. It is possible to recovery fully and live a beautiful, rich life!
Healing & Recovery from Eating Disorders with Rachel Cama
I have always had a deep, loving relationship with animals. I grew up in a home with a dog, cats and a variety of smaller companions. Soon, I began to be recognized as a young visual artist whose renderings of animals showed their inner, emotional world––depth that was not considered a part of animal lives. It was no surprise to my family when I announced, at age thirteen, that I was a vegetarian. I have not eaten any meat since then.
Raised in a Christian (Episcopalian) household, I was fairly certain that God's commandment, "Thou shall not kill" applied to all living creatures––even if others saw it differently. I didn't care because, to me, it meant that I was not supposed to harm any person or animal. I also made sure that I did not own any leather or fur.
It was around the time I discovered the physical practice of yoga (asana) that vegetarianism was no longer enough. The guilt I felt for consuming dairy, eggs and wearing wool was immense and, although it was a challenge, I became vegan in my early 20s. I read labels, refused to eat honey and only used beauty products which I was sure contained no animal ingredients. At the same time, I started to realize that my dietary habits were a little extreme––I was becoming fearful of anything "unhealthy" including oils, sodium and sugar. I learned that white sugar, in addition to being bad for the body, might use animal bone char in processing, and therefore could not be trusted. But the ethical guidelines of yoga, the yamas and niyamas (from the Yoga Sutras attributed to Patangali), provided the belief system that made a restrictive diet alright––I was practicing ahimsa, or non-violence. Ahimsa, to me, was even clearer than "Thou shall not kill" as it left no ambiguity of species, not to mention that there were plenty of practicing yogis to back up my lifestyle choices.
At some point, a line was crossed––or rather, there was a true entanglement of ahimsa and an unfortunate aspect of my own psyche. My diet became the perfect "excuse" for a deeper, darker issue within me…I had a serious eating disorder. Those around me knew I was strange around food, but they also knew I had strong ethical convictions. I used the word ahimsa as if I had achieved moral victory, but inside, I was falling apart. My actual diagnosis, anorexia, came when I was underweight enough to have medical complications, causing me to check into an intensive treatment program.
Coming out of anorexia was akin to the first time I got contacts for my myopic eyes––I learned I had missed a large piece of my life. When I became medically stable, I was able to do yoga teacher training, hoping that I could someday help eating disordered people like myself through yoga. Like most people who embark on the journey of yoga, I soon opened a "can of worms" in terms of self-inquiry. It was in my training that we had a few classes on the yamas and niyamas––and there I was, stuck back at ahimsa, the very beginning of the precepts. Suddenly, feeling of nausea, a knot in my stomach and profound fear swept over me as I realized that ahimsa, a guideline that I thought I was practicing, meant I was to practice self-love. I am not open emotionally, so I am sure a few of my fellow trainees noticed as I quietly wept. I apologized to myself for the years of starvation, self-hatred and the blatant misunderstanding of ahimsa.
There are days that I don't feel I can love myself and yes, there are times when I reminisce about my eating disorder, wishing I could somehow hide in that veil of my own self-deception. But, I don't act on it. I stopped obsessing about my diet (I am now, simply, vegetarian who eats a wide variety of foods) and have eased up on myself for occasionally eating sweets and other "bad" foods. I no longer over-exercise until my body is tired and injured.
As a reminder of my vow to practice ahimsa toward myself, I got a tattoo of the word, in Sanskrit, on my wrist. Some would argue that tattoos are not exactly non-violent to the self, but the gesture, for me, goes way beyond this surface irony.
Yoga shows us deep parts of ourselves––some very hard to face. Are you practicing ahimsa toward yourself? Can you replace some of the negative feelings you have toward yourself with love and acceptance? Can you treat yourself as you would another living being, being kind in speech and action? When you can practice ahimsa toward your own body and mind practicing it toward others will naturally follow, but as in most aspects of yoga, you must begin from within.
At Banyan Yoga & Ayurveda, a beautiful studio where I teach yoga in Elkins Park, we are focusing on ahimsa (non-violence) for the month of September. 
Answer: Pure Divinity!
I was fortunate enough to attend the Viola da Gamba Society of America's 50th Anniversary Conclave this July in Newark, Delaware. There, among other highlights, I performed English composer Ralph Vaughn-Williams (1872-1958) Fantasia on a Theme by Thomas Tallis with three-hundred of my closest viola da gamba friends!
Thanks to NPR journalist Jeff Lunden, who spent three days with us (and played tenor viol), we were featured on Weekend Edition! Please listen, read and enjoy the story Gathering Of The Viols: The 50th Annual Viola da Gamba Conclave. Definitely scroll to the bottom of the page and listen to Orange Blossom Special played by the myself and my colleagues in Consort Cooperative, the program for young professionals. It is a real treat!
Holy Fire by Alex Grey (1987)
As a music graduate student, I remember learning about the medieval concept of courtly love. In the following excerpt, Bernart de Ventadorn (1145?–1180) illustrates the plight of the troubadour, a wandering mistral singing in Provencal, one of the languages of medieval France.
When I see the lark beating
Its wings in joy against the rays of the sun
That it forgets itself and lets itself fall
Because of the sweetness that comes to its heart,
Alas! Such great envy then overwhelms me
Of all those whom I see rejoicing,
I wonder that my heart, at that moment,
Does not melt from desire.
Alas! How much I thought I knew
About love, and how little I know,
Because I cannot keep myself from loving
The one from whom I will gain nothing.
She has all my heart, and my soul,
And herself and the whole world;
And when she left, nothing remained
But desire and a longing heart…
~trans. Craig E. Bertolet
Ventadorn continues (with some serious woman-bashing) for five more stanzas. The text is almost formulaic–the unavailable woman was idealized from afar by a man. The overarching theme is pain…the woman in question was often either married (creating a love triangle with her husband) or promised to someone else. This idea is repeated throughout history, as if a habit-pattern of human condition, wearing the karmic grooves deeper and deeper. What if we could just have the love we want…in the way that we desire?
In yoga, we are constantly asked to open our hearts. "We're going to do a heart-opening sequence" is a quote that I can attribute to various yoga teachers throughout my twelve years of practice. The class that follows usually involves backbends: wheel, camel and pigeon. How are we to open our hearts when we have spent a lifetime keeping them covered? This inner-fragility brings to mind the following pop/indie song (which was featured in Grey's Anatomy in 2006, among other places):
Have you ever thought about what protects our hearts?
Just a cage of rib bones and other various parts
So it's fairly simple to cut right through the mess,
And to stop the muscle that makes us confess
And we are so fragile,
And our cracking bones make noise,
And we are just,
Breakable, breakable, breakable girls and boys
And you fasten my seat belt because it is the law
In your two ton death trap I finally saw
A piece of love in your face that bathed me in regret
Then you drove me to places I'll never forget
And we are so fragile,
And our cracking bones make noise,
And we are just,
Breakable, breakable, breakable girls and boys
And we are so fragile,
And our cracking bones make noise,
And we are just,
Breakable, breakable, breakable girls-
Breakable, breakable, breakable girls-
Breakable, breakable, breakable girls and boys
~Ingrid Michaelson
Society asks us to be tough and protect our hearts, but yoga asks us to be open, even to weep…to love.  Well, at least if we are practicing vairagya (non-attachment).  We have our work cut out for us, so to speak…
I recently had a visceral reaction to Yogi Bhajan, the founder of Kundalini yoga who left his body in 2004, and encouraged the "yoga of living detached, yet fully engaged in the world." As I observed (and attempted to join in practice) him leading a meditation at a Sadhana in 1987 (click link for video), I was surprised to hear him raise his voice, "Open your heart! Open your heart!" It struck me as a command that lacked compassion for the deep pain we all experience through our lives when loving.
I recognize that this could just be my own emotional blockage. As a 31-year-old woman with one marriage behind her, I hesitate to go to the depths of love and openness–and I put up barriers without noticing. Though it takes a while to recognize my own issues, the resistance is palpable. I am also aware that loving doesn't necessarily happen in the way it did when I was 21. In fact, I am not sure I would want that blind-sided naivety…which, although beautiful, comes with a price.  But, what do I want in terms of love?
How do we love in this world? We are asked to, above all, love.  Like many of the topics I write about, it will take more than a lifetime to master this…and only enlightenment will provide the final answers. Before that time, perhaps in this life I can find the delicate balance of opening my heart and protecting my fragility.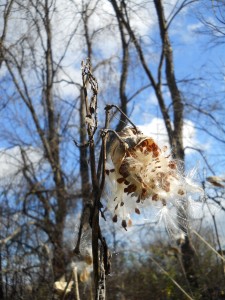 Milkweed, Photographed at The Himalayan Institute
Midway through the journey of our life
I found myself in a dark wood, for the right way was lost.
 To tell about those woods is hard–so tangled and rough and savage
Thinking of it now, I feel the old fear stirring…
~Dante Alighieri, The Divine Comedy (written 1308–1321)
The late-medieval image of being "lost in a dark wood" feels pedestrian to our modern ears. At the same time, it aptly speaks to our human condition. The Divine Comedy, Dante's epic poem, was certainly autobiographical for its author; and the crisis is all-too-familiar to those who have pursued the spiritual path throughout time.
In Dante's situation, and in ours, the spiritual answer is the act of Surrender. One doesn't need to look too far to be advised about this concept. A particularly beautiful Christian discussion is the book Trustful Surrender to Divine Providence, a combination of writing by Father Jean Baptiste Saint-Jure (1588-1657) and St. Claude de la Colombiére (1641-1682). 12-step programs such as Alcoholics Anonymous also advocate Surrender…to a Higher Power.
Ishvara-Pranidhana is the last niyama (observance) appearing in the seminal yoga text, The Yoga Sutras of Patangali.  Roughly translated, it means surrender to "Ishvara"…the Higher Power/God/the Divinity within oneself. It is a step we must take in a spiritual practice. It is important to remember that surrender is not an act of giving up, rather, it is listening to our Highest Self (Atman) and trusting that which is within us. Ishvara-Pranidhana focuses on our relationship to God, surrendering our ego and recognizing our own Inner Teacher.
The concept of surrender can be applied to various facets of our lives.
Career (or Dharma)
Do you want to do something, vocationally, which is different from you are doing now? Was following your dharma (life's calling) an act of struggle? Maybe you were resistant. How do we balance our own desires, ambitions and needs with what is "ours to do" (this concept is illustrated, in depth, with Arjuna's despondency in The Bhagavad Gita)?
Health
Most of us come to yoga for purposes of  healing. Have you had to surrender, trustfully, to an illness of your body or mind? Perhaps there was a treatment you did not initially trust. Maybe you have spent time in your life sick and taking a "break" from your normally productive life. Was it difficult to slow down? How did you finally recognize that you needed to surrender in order to heal?
Personal Relationships
Have you surrendered to being married/partnered or remaining single? Did/do you desire the opposite status? This can also be applied to friendships. Perhaps you had a "falling out" with someone and had to surrender to not resolving the conflict. Think of a time when a relationship with another person did not turn out in the way you had desired. How were you able to come to terms with the result?
Ishvara-Pranidhana in Practice
Now, think about a yoga practice that, for you, gets at the heart of Ishvara-Pranidhana.  It could be an posture (such as shavasana). Anything. What yoga practice (meaning asana, pranayama and/or meditation) do you emphasize when you are having trouble surrendering to the Divine in your life?
As someone on a spiritual path, I certainly struggle with this concept on a daily basis. As much as Ishvara-Pranidhana creates a battleground in the mind, it also provides me with comfort, and ultimately, immense joy. If we all let go, trustfully, a little bit more, we will attain lasting contentment. Trust that the universe will hold you throughout your life. Try it, and enjoy the incredible lightness of your own being!
"Begin at the Beginning." Those are wise words from the enchanting childrens' book Harold and the Purple Crayon by Crockett Johnson (written in 1955). I always found this concept comforting as I ventured into uncharted territory throughout my life. Beginnings can be terrifying, but they can also be beautiful. New starts, clean slates…there is something refreshing about approaching everyday as if we are beginning anew.
Introit, meaning "entrance," is the opening of the celebration of Eucharist in the Christian religion…more often associated with liturgical sects such as the Episcopal church, the tradition in which I was raised.
Invocation, meaning "to call upon [God/deity] or summon," comes from the Hindu tradition…the current expression of my spirituality.
An Introit begins a Mass, and an Invocation begins a yoga ritual (Kirtan, etc.)
And I…I begin at the Beginning of this blog. I begin a new chapter in my life, documented here.
I would like to express my immense gratitude to all of the people in my life who have helped me get to this moment. I look forward, in awe, of what is to come. Blessings to all.
"Lead us from the unreal to the Real.
Lead us from Darkness to Light.
Lead us from Death to Immortality.
Om, Peace, Peace, Peace."
-Brihadaranyaka Upanishad 1.3.28