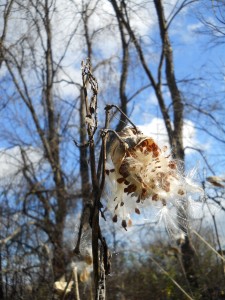 Milkweed, Photographed at The Himalayan Institute
Midway through the journey of our life
I found myself in a dark wood, for the right way was lost.
 To tell about those woods is hard–so tangled and rough and savage
Thinking of it now, I feel the old fear stirring…
~Dante Alighieri, The Divine Comedy (written 1308–1321)
The late-medieval image of being "lost in a dark wood" feels pedestrian to our modern ears. At the same time, it aptly speaks to our human condition. The Divine Comedy, Dante's epic poem, was certainly autobiographical for its author; and the crisis is all-too-familiar to those who have pursued the spiritual path throughout time.
In Dante's situation, and in ours, the spiritual answer is the act of Surrender. One doesn't need to look too far to be advised about this concept. A particularly beautiful Christian discussion is the book Trustful Surrender to Divine Providence, a combination of writing by Father Jean Baptiste Saint-Jure (1588-1657) and St. Claude de la Colombiére (1641-1682). 12-step programs such as Alcoholics Anonymous also advocate Surrender…to a Higher Power.
Ishvara-Pranidhana is the last niyama (observance) appearing in the seminal yoga text, The Yoga Sutras of Patangali.  Roughly translated, it means surrender to "Ishvara"…the Higher Power/God/the Divinity within oneself. It is a step we must take in a spiritual practice. It is important to remember that surrender is not an act of giving up, rather, it is listening to our Highest Self (Atman) and trusting that which is within us. Ishvara-Pranidhana focuses on our relationship to God, surrendering our ego and recognizing our own Inner Teacher.
The concept of surrender can be applied to various facets of our lives.
Career (or Dharma)
Do you want to do something, vocationally, which is different from you are doing now? Was following your dharma (life's calling) an act of struggle? Maybe you were resistant. How do we balance our own desires, ambitions and needs with what is "ours to do" (this concept is illustrated, in depth, with Arjuna's despondency in The Bhagavad Gita)?
Health
Most of us come to yoga for purposes of  healing. Have you had to surrender, trustfully, to an illness of your body or mind? Perhaps there was a treatment you did not initially trust. Maybe you have spent time in your life sick and taking a "break" from your normally productive life. Was it difficult to slow down? How did you finally recognize that you needed to surrender in order to heal?
Personal Relationships
Have you surrendered to being married/partnered or remaining single? Did/do you desire the opposite status? This can also be applied to friendships. Perhaps you had a "falling out" with someone and had to surrender to not resolving the conflict. Think of a time when a relationship with another person did not turn out in the way you had desired. How were you able to come to terms with the result?
Ishvara-Pranidhana in Practice
Now, think about a yoga practice that, for you, gets at the heart of Ishvara-Pranidhana.  It could be an posture (such as shavasana). Anything. What yoga practice (meaning asana, pranayama and/or meditation) do you emphasize when you are having trouble surrendering to the Divine in your life?
As someone on a spiritual path, I certainly struggle with this concept on a daily basis. As much as Ishvara-Pranidhana creates a battleground in the mind, it also provides me with comfort, and ultimately, immense joy. If we all let go, trustfully, a little bit more, we will attain lasting contentment. Trust that the universe will hold you throughout your life. Try it, and enjoy the incredible lightness of your own being!